The recent HETT Show at ExCeL London, held on 26th and 27th of September 2023, brought together the digital community to explore the systems and infrastructure that underpin and enable a data-driven NHS. The event's fundamental aim was to consider how patient outcomes can be delivered through the meaningful implementation of technology.
Dr Iain Goodhart, Consultant in Intensive Care and Anaesthesia, and Director of Acute Care, University of Cambridge Clinical School, and Gemma Czech, Clinical Nurse Lead for Virtual Wards, Cambridge University Hospitals NHS Foundation Trust, shared their experiences.
Goodhart opened the presentation by explaining a bit more about the purpose of virtual wards, the benefits they bring to patients and how they have been developed at CUH using industry-leading monitoring technology by Masimo.
"Virtual ward care must be an improvement upon standard care. We're not looking at virtual wards as a way of delivering healthcare on the cheap. We very much want to improve upon the patient experience." The aim of virtual wards is admission avoidance and facilitating early discharge, he said. 
He explained their approach has been different from other integrated care systems (ICSs) in that they have developed generic standard operating procedures, allowing them to include patients from elective and emergency care. The Trust's approach was to look at step-up and step-down opportunities. He said other virtual wards across the country tend to focus on one or the other.
Goodhart said they wanted to ensure there was 24/7 access to care in virtual wards, just like patients in a hospital. He said when patients had 24/7 access to nursing staff who could triage the call and put the patients in touch with the doctor responsible, it improved the standard of care.
He explained there are parallel pathways. "We've got an open virtual ward system which functions like an open high dependency unit, where any hospital specialty can put their patient into the virtual ward. The team look after the nursing aspects of their care, the infrastructure, the monitoring, the daily contacts, liaising with the patients, and arranging investigations. Then, we have a closed system for teams that are unable to increase the number of patients under their care. The virtual ward medical and nursing team looks after this virtual ward. The systems function in parallel with the opportunity for patients to move between the two streams."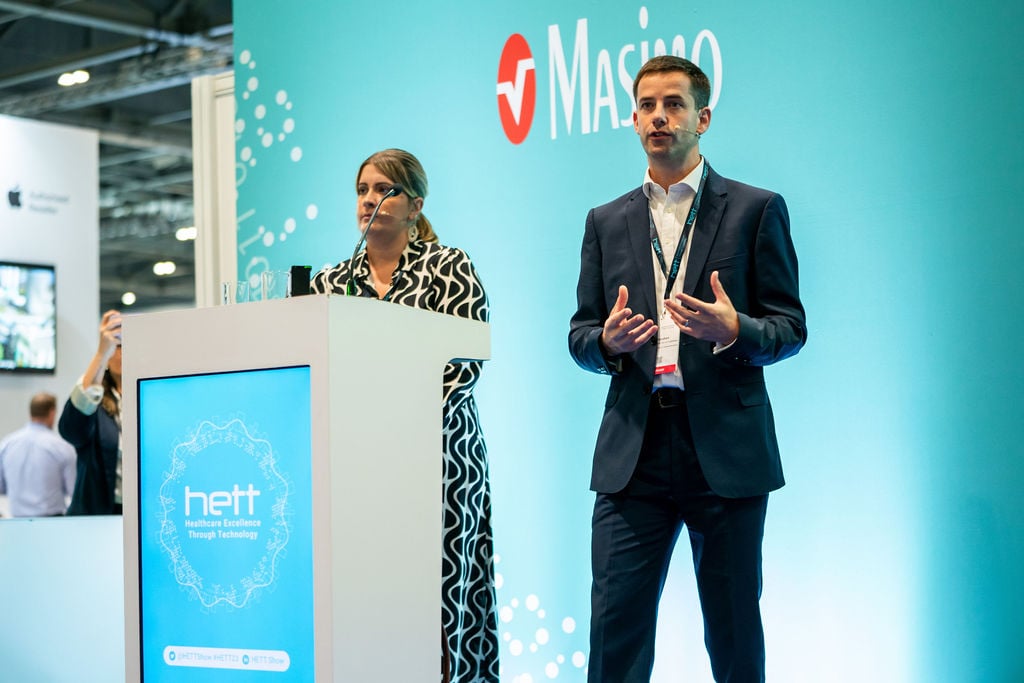 Virtual ward capability is limited by what gets invested, he said. "We had to start small and grow." He explained that things like taking blood, home visits, and imaging investigations are given the same priority as inpatients, whilst MDT can be organised as well. Nursing staff follow protocols and use their clinical experience to review investigations and results. Welfare checks can be conducted, and the Trust works closely with the emergency services, as well as rapid response and early intervention teams to enable home visits on an urgent basis where necessary.
Goodhart then told the audience that innovative technology from Masimo enables vitals, such as heart rate, blood pressure, and temperature to be monitored via wearables. "We use the Masimo technology, which we've used in our Trust for many years in the intensive care, high dependency, surgical, A&E and transfer services. It was a logical progression for us to use the same devices in our virtual ward."
He said the Masimo equipment is tailored according to the patient's specific needs. "There's no point in sending a patient out with all the monitoring equipment if it's not going to benefit because you will only burden those patients."
"We are now bringing more acutely unwell patients into the virtual ward. As we expand our services… it's important we are able to get a complete picture of a patient's physiological state. That doesn't mean the patients must use the monitoring equipment all the time - they might just have it with them, so if you're doing a remote consultation and want to know the heart rate, blood pressure or temperature, that information is there."
Goodhart said the Masimo equipment being used by patients can be linked via Bluetooth. This means that data comes through to staff without inaccuracy, which can happen when patients enter their own data. This also helps to avoid burdening the patient with responsibility. "Remember, these patients are not well; they don't feel great. They're not going to be wanting to work out complicated websites, complicated fields, or entering in numbers. We need to simplify the process for the patient, making it a better experience for them, but also safer and more reliable. All the data comes into the Masimo SafetyNet app and then to the Masimo SafetyNet servers, after which it is moved into Epic, our electronic patient record."
Goodhart shared an example of a virtual ward working well for a patient: "A patient on a cardiology ward was adamant they wanted to self-discharge. As a compromise, we offered the virtual ward. We said, 'We'll put you onto our monitoring, the nurses will call you three times a day, you can phone us anytime, and you can come back as needed.' This patient has been titrated on beta blockers, and you can see the heart rate ranges; they are unwell. These patients would normally be in a physical ward, but by using the technology, we managed them safely at home to benefit the patient."
He also emphasised that age wasn't a barrier to Masimo's technology. "We have patients of all age ranges. At any one time, we had at least six patients over the age of 90, and they all managed well with the technology, and they value the opportunity to be back at home with their families and pets and in their own bed." He also added that a whole spectrum of hospital departments can utilise virtual wards.
Goodhart then handed over to Gemma Czech to talk about how virtual wards work from a nursing point of view.
"When we started the virtual ward a year ago, my thought process was that we needed to provide ward-level care in patients' own homes. We had to think about how to do that by using the technology available, while still looking at patients holistically," Czech said.
She then explained what she had learned about setting up a virtual ward service: "The most important things are your resources, your relationships with your stakeholders, and your team." Czech said at the outset, when setting up a virtual ward, it is essential to look at the doctors required, pharmacists, nurses, and healthcare assistants, and how to access dietitians, OTs, physios, and discharge planning.
"You need a good referral process. The teams that refer to our virtual ward must present to us what they would like us to do for their patients and how we can support them to go home early." 
Using digital technology, she said, patients can go home, sleep in their own beds, eat the foods they want, and recover better. It reduces the risk of patients deconditioning and prevents hospital-acquired infections.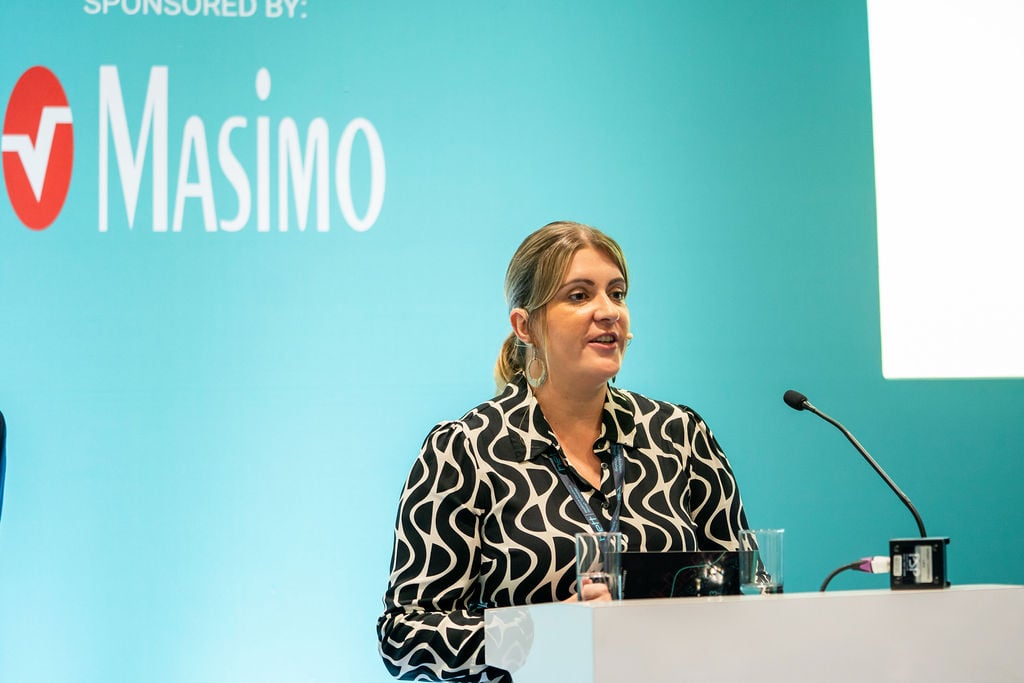 Czech was keen to talk about what needs to happen when starting a virtual ward, saying it's critical to develop relationships with the doctors and nurses and demonstrate the technology so that they can trust the service being provided.
She said you must help patients with daily living activities and link them with specialists and nurses. "When you visit a patient on the ward, you should have a full conversation with them, involve their relatives, involve their carers, and make sure they're happy with going home onto the virtual ward. Make sure that they can use that technology and understand what the outcome will be for them when they go home."
Czech said they have a daily ward round with a doctor, a nurse and a pharmacist. They look at who is using intermittent and continuous technology. Teams that have started pathways are invited to have ward rounds as well. So, for example, the cardiology team has a twice-weekly ward round. There are continual conversations with teams to ensure they are happy with the care being delivered to patients in their homes. She explained that access to the imaging also means patients can go home without waiting for their results, such as MRI. Patients are monitored remotely to make sure they are safe at home and still considered an inpatient in the hospital.
"Medications are monitored, and we link in with the pharmacist so we're still accessing the patient's drug chart, ensuring they're on the right medications." She emphasised the importance of communicating with patients to help them feel safe. "They should really be in an acute hospital setting. But we're saying, 'we're going to send you home and keep you safe and provide you with a care plan that meets all of your needs.'"
Czech said it was essential to give patients confidence to take ownership of their care as well. As a nurse, she said, you become an advocate for these patients. Czech also reminded delegates how important virtual wards are for capacity and flow. For example, she said those patients that would normally have to stay in hospital for another 24 hours so the team can monitor their blood pressure can now go home.
"Virtual wards are the future", she said confidently.
About the day-to-day, Czech explained they have a hub where patients are contacted up to four times a day. Patients can also access us 24 hours a day, she said. There are also home visits and hospital clinic appointments so they can be seen by doctors on the virtual ward or by their parent team.
For each case, it must be considered whether continuous or intermittent monitoring is best for the patient. She said it is essential to consider what would be more stressful for the patient. For example, will they constantly look at the app if they have continuous monitoring? She added dexterity and memory problems must also be considered.
Rounding off the discussion, Goodhart said: "Our priority and focus are the patients, improving the quality of care and providing safe care. Our patients are invited to provide feedback, including how easily they found the technology to use and their perception of safety. Feedback [on the virtual ward experience and the Masimo technology] has been very positive."
Ultimately, Goodhart said the overriding question must be, "Is it safe?" He continued, "Yes, but it is only as safe as the teams using it." He stressed the importance of choosing suitable patients, having the proper procedures, and having experienced nursing staff who are confident in what they're doing and can get in touch with the relevant medical teams.
"You need to have practices leading to a safety culture", he said. "And patients have got to know when and how they get help. There must be a learning culture because you're developing a new service and a new way of working, and there's learning to be done through all of that."
Goodhart suggested teams start with mock patients (start with staff pretending to be patients who go home). "Then gather honest feedback about the service and build it up as you develop your confidence and experience. Patient feedback and patient participation are absolutely vital and will help you to push those boundaries."
Closing the discussion, Goodhart said virtual wards and hospital-at-home must be used to enhance patient experience and provide safer care, and to deliver this, there needs to be 24/7 points of contact. "I know that's difficult and costly to achieve. But if we're delivering a true virtual ward, we need to consider patient safety and the ability for patients to get support."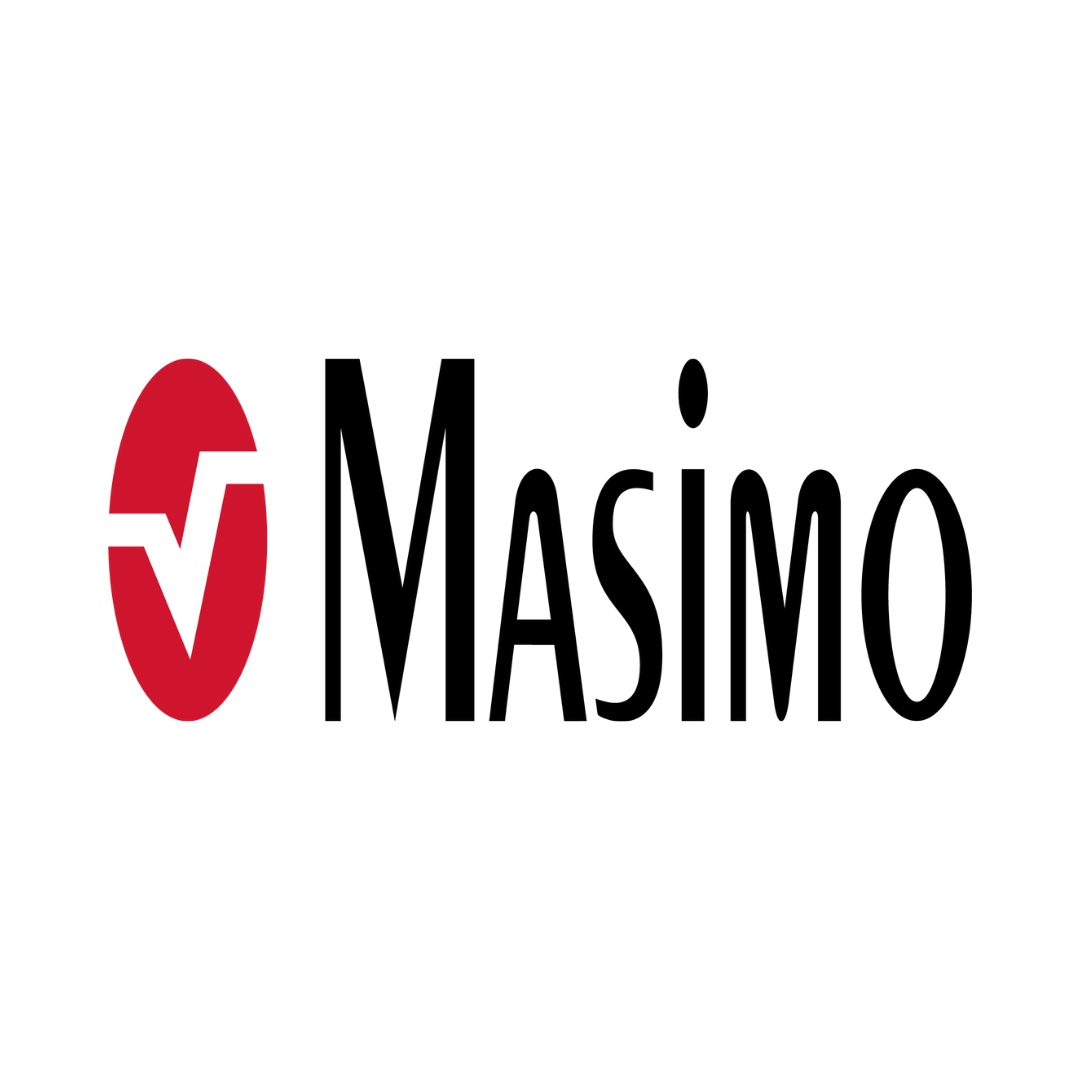 Masimo is a global medical technology company that produces a wide array of industry-leading monitoring technologies, including innovative measurements, sensors, patient monitors, and connectivity, automation, telehealth, and consumer solutions.