Dr Mark Lomax, CEO of PEP Health, the social listening tool of patients talks about what they are hearing from millions of patients around the country
What next after an all-time high in patient experience during Covid?
Recent patient experience data collected during the COVID-19 pandemic shows a significant upturn in patients' positive responses across all parts of the country. It is perhaps of little surprise that during this difficult time appreciation of NHS services is at an all-time high but we are now starting to see signs that as more patients wait for treatment that satisfaction is starting to drop.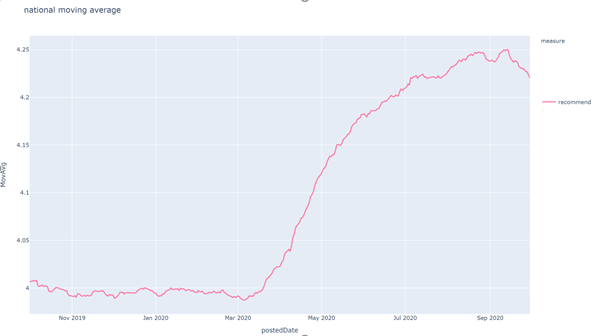 Overall scores for all acute trusts (1=worst; 5=best)
At PEP Health (Patient Experience Platform) we have been collecting, measuring and analysing the trends in patient satisfaction since 2017 and especially during the past few months, arguably some of the most trying in NHS history. PEP Health is a social media listening tool, which offers a radical new approach to collecting and analysing the views of patients on the health services they have received, offering comprehensive real-time reporting of what patients really think about their care. Every hospital in the UK is currently tracked remotely.
The chart below details the variation across England. Each dot represents an NHS Trust. London's mean score overall is significantly below the rest of the country but also has the greatest variation. The South West and North East lead the way with delivering a very high patient satisfaction level and congratulations to all those maintaining this high level in these challenging times. We can all learn from these centres of excellence.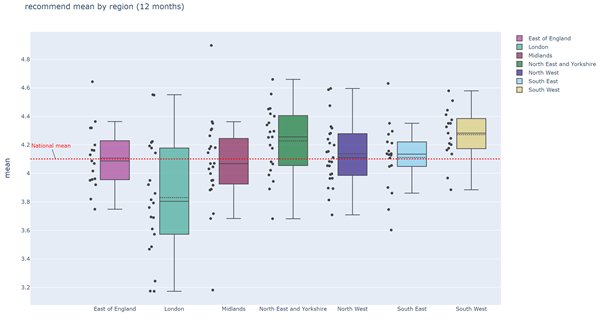 Collecting patient data, especially during the pandemic, is critical because it provides a real-time insight, at scale, as to what is happening with the ultimate users of the NHS, the patients. Comments are themed into 8 quality domains, meaning we can also quickly identify the why as well as the what. For instance, themes such as ability to access services quickly, receiving effective care, receiving clear information are all essential in the current climate.
In addition, for staff who may well be fatigued and drained it provides a morale boosting lift and demonstrates that what they do is recognised and appreciated by those they treat. We also see that patients themselves are very good at identifying many safety issues that can crop up and so we can learn from them as well as being motivated.
The Role of Patient Experience looking ahead
I believe the insights we gain are particularly useful in the current climate, as feedback will help us support the reset following COVID-19 through improving services and patient safety.
As the NHS works to recover from COVID-19, real-time patient insights are invaluable. For the first time we can track and monitor services uniformly and at scale. We can compare current patient experience during the reset period with pre-COVID activity and, we can drill into the themes and issues to understand variation. For essential services, like oncology and maternity, we can understand the patient voice more clearly than ever.
This autumn, PEP Health will be publishing and sharing a What Patients Really Think Report detailing a raft of insights and analysis about the quality of patient experience across the country. Download your copy from www.pephealth.ai
---
Dr Mark Lomax is the CEO of PEP Health and an NHS Innovation Accelerator Fellow. If you would like more information about your region or hospital and to ensure your patients' views on their experience are available to help you with planning and operating your services, visit www.pephealth.ai or email enquiries@pephealth.ai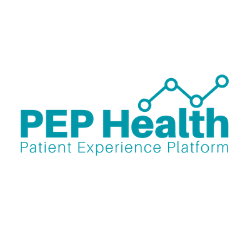 By Dr Mark Lomax
CEO
PEP Health
& NHS Innovation Accelerator Fellow