Every seat in the auditorium was taken as Vin Diwakar, Medical Director for Transformation & Secondary Care, NHS England, took to the stage for the first keynote presentation of HETT 2023 on 26th September.
Addressing delegates - many of whom were standing, such was the popularity of the session - Diwakar explained he was a little emotional as he walked through the doors that morning, as it was his first visit to ExCeL London since it was home to the Nightingale Hospital during the Covid-19 pandemic.
In light of the current challenges the UK faces in terms of health and social care, Diwakar said it was "a great honour" for him to be leading the transformation directorate at NHS England, bringing together both digital, data and the innovative research into the life sciences.
He said that the NHS - celebrating its 75th birthday earlier this year - had been a beacon for innovation over the decades, citing cutting edge technologies, including IVF, hip replacements, CT scans, and meningitis and Covid vaccines, which were all achieved "whilst treating over 1.3m people a day".
Post pandemic, Diwakar said the NHS does continue to face a number of significant challenges. "Patients aren't just worried about waiting lists, they are worried about access – access to primary care and mental health services" he said. "Our staff are worried about having enough staff with the right skills and working in the right type of inclusive environment, with the right opportunities for personal development," he added. Finally, Diwakar said that there is also concern from taxpayers that "they are getting the best value for patients from their investment" into the NHS. To address these challenges, we will "need to leverage digital technologies," he explained, stating he was "optimistic for the future".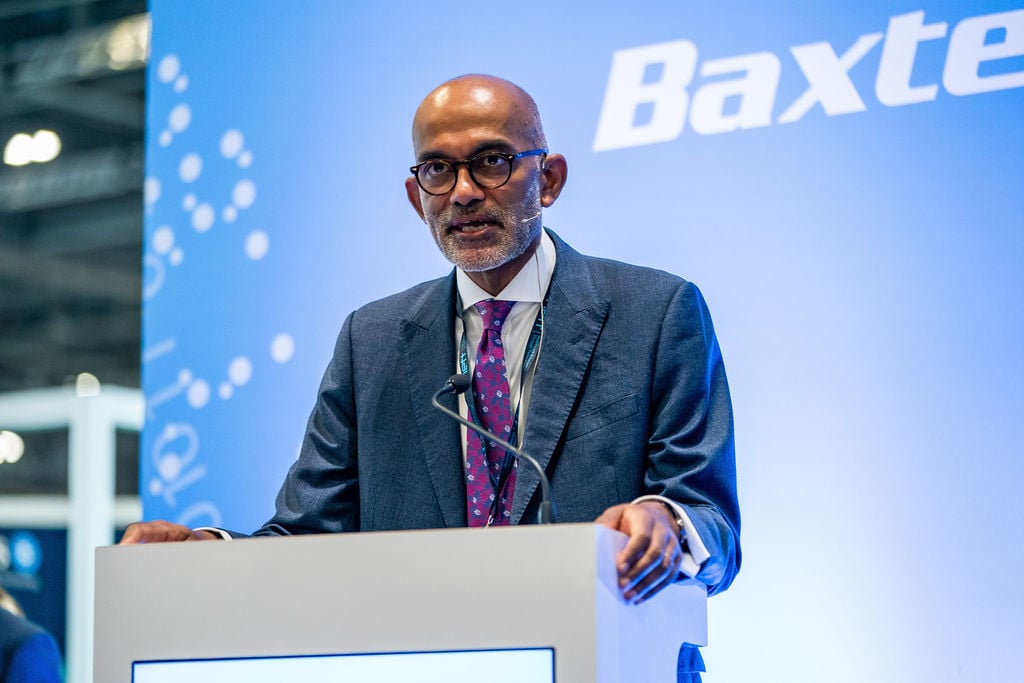 Diwakar gave examples of the progress already being made, as he revealed that 88% of trusts have electronic patient records (EPRs) in place, which will jump to 90% by the end of 2023, and to 100% by 2026. In addition, more than one in two (52%) of trusts currently have social care records, which is anticipated to grow to 80% by 2025.
Diwakar then shared with the audience the six different methods through which the NHS plans to achieve transformation.
Reimagining access for patients: This will involve thinking carefully about how the NHS delivers care

Giving patients more control over their health data: Enabling them to make the right choices about staying healthy and how they manage their conditions

Taking friction out of staff's lives: This would include automating value-added tasks

Creating more insights into diseases: Using data and technologies to deliver better services, including robotics, AI and advanced engineering

Increasing the social value of the NHS: Creating more integrated care systems (ICSs) and building an increased number of partnerships at local, regional and national level, as well as with different industries

Increasing the economic value of the NHS: Investing in those new partnerships and people
Diwakar then provided examples of what NHS England is doing to realise those ambitions, emphasising the role of technology and innovation in reshaping healthcare delivery.
He said the NHS App is playing an increasingly important role across the health service, stating that the platform has had 32 million sign-ups to date, whilst also currently handling 500,000 repeat prescriptions each week. As we approach the colder months, Diwakar said it will play a "critical role" in the upcoming "flu and Covid vaccine campaigns", explaining that it is now easier to book through the app than ever before. Improving accessibility of the app is also a priority, said Diwakar, claiming that the NHS is looking at adding secondary languages to the platform.
During his keynote, he reaffirmed his commitment to modernising data architecture, and explained the Federated Data Platform will "transform the way we use data to improve the experience of patients and staff within the NHS – reducing the administrative burden and making it easier [for people] to do their jobs". He told delegates, "let's not make the Federated Data Platform something that it isn't – it is software", before emphasising that the NHS will remain in full control of the "safe and secure" data.
Diwakar also revealed that a key priority will be investing in secure data environments, adding that there is a three-year programme in place to achieve this. He explained that it is important to "simplify access to data with a single front door".
In his closing remarks, Diwakar stressed the importance of "collaborating, not competing", before saying that "technology, data, research, innovation and life sciences are going to the future foundations on which the NHS is going to be built".
About HETT
HETT is the UK's leading health tech and digital health conference, showcasing world-leading technologies and solutions in one space. The annual summit provides free CPD-accredited educational sessions, interactive activities, and networking opportunities with 150+ innovative suppliers and 200+ expert speakers. Thousands of decision-makers and influencers from across the healthcare community attend. 
Register for our next event, HETT North, taking place on the 28th February 2024, at Manchester Central Convention Complex.