If you want to meet experts, decision-makers and influencers in the healthcare community, then a HETT event is a must. HETT is the UK's leading healthtech and digital health event, where over 4,000+ attendees from across the sector come to learn about the latest healthtech developments and engage in new partnerships.
If this sounds like something you would be interested in, keep reading to find out more.
Why Should You Attend a HETT Event?
HETT is where you can network with UK digital health professionals from all areas of the industry and help them solve their digital and technology-related challenges.
With people attending from digital leadership, operational leadership and clinical leadership within NHS Trusts, national bodies and nonprofit organisations, you will have the opportunity to supply, educate and engage with the health community.
Events such as HETT allow you to get your products and services in front of the people who need them, so you can generate new leads for your pipeline, turn them into potential customers and maximise your ROI.
Attendance Demographics
Who Attends?
40% digital leadership

39% operational leadership

21% clinical leadership
If you are looking to get in front of key healthcare decision-makers, then HETT is a wise choice. Representing health organisations from across the UK, you will be able to engage with key stakeholders in the health community and potentially turn them into engaged leads.
Sector Representation
55% NHS Trusts

13% national/regional bodies

5% GP practice or federation

5% nonprofit/advocacy
Representatives from NHS Trusts make up a significant portion of the attendees. However, there are also healthcare professionals from national and regional bodies, GP practices and nonprofit organisations, allowing you to target people who work in all different departments and areas of the industry.
What Is in It for You?
90% of exhibitors expect to generate leads and create sales results by attending HETT, with the average value standing at over £205,000. If that is not persuasive enough, keep reading to learn more about what you could achieve from exhibiting at a HETT event.
Visitor Budgetary Responsibility
39% up to £100,000

18% £100,000 - £500,000

12% £500,000 - £1 million

15% £1 million - £5 million

15% over £5 million
As key decision-makers, attendees will be responsible for sizeable budgets, which they may look to spend. Coming from all levels of the hierarchy, visitors will have anywhere between £100,000 and £5 million that they may want to invest.
Selling to an Engaged Audience
To ensure you generate leads, secure contacts and prove that all-important ROI, it is crucial to ensure the audience you speak to is fully engaged. As HETT is the largest digital health event, you can be assured visitors are already highly engaged by choosing to attend the event — nobody will be a cold lead.
Visitors had valuable discussions with an average of 8 exhibitors at HETT 2021

95% of visitors were satisfied with their experience at HETT

4 out of 5 exhibitors felt they had achieved their objectives
Utilise HETT Connect
Generating leads and customers does not start and end with just exhibiting at an event. We created HETT Connect, a unique platform that allows exhibitors and visitors to arrange one-to-one meetings, to take things one step further.
HETT Connect allows you to arrange face-to-face meetings with potential leads, either in the Connect Lounge or at your stand, based on you and your visitors' needs.
Not only does it give you the chance to get valuable face time with hard-to-contact decision-makers, but the stats prove that it generates the results you want to achieve. At HETT 2021, 350+ meetings were pre-booked on-site, with an average of 4 out of 5 stars for meeting quality.
This lets you generate engaged leads and develop brand awareness and affinity with potential customers. The benefits of event marketing do not just revolve around the event itself — the pre- and post-event marketing efforts are just as valuable. Make sure to gather contact details through HETT Connect so you can contact visitors for follow-up meetings.
Read What Our Exhibitors Had to Say About HETT 2021
Do not just take it from us. Our HETT 2021 exhibitors gave their feedback and told us why you should attend the next HETT event. Here is a snapshot of what they thought.
"We've had really interesting conversations, with lots of senior people who want to find out what we do and how we can help them" Tom Jones, Pexip.
"HETT helps us win business because we're able to see customers from all over the UK, and we've even seen customers coming from mainland Europe - all in one place - and have our solution already set up." Graham Thomas, Lenovo
"I'd definitely recommend HETT to other companies. I think as an early-stage business it's been a great platform for us to come and learn as well as network and meet lots of very relevant people for our company." Paul Landua, Careology
Still looking to find out more? Watch the Salesforce client testimonial below.
What You Stand to Gain From Attending a HETT Event
In short, HETT allows you to effectively market your products and services to the people you are trying to target. Exhibiting at HETT will enable you to develop brand awareness, demonstrate leadership and generate quality leads to fill your pipeline — and the benefits do not end there.
HETT events will let you get your brand in front of key players in the healthcare industry and give you the time, opportunity and networking facilities to develop relationships that could turn into long-lasting, valuable partnerships.
There is a reason why HETT is the UK's leading digital health event, after all. For more detailed stats and a snapshot of what you could achieve by attending a HETT event, check out our HETT 2021 infographic below.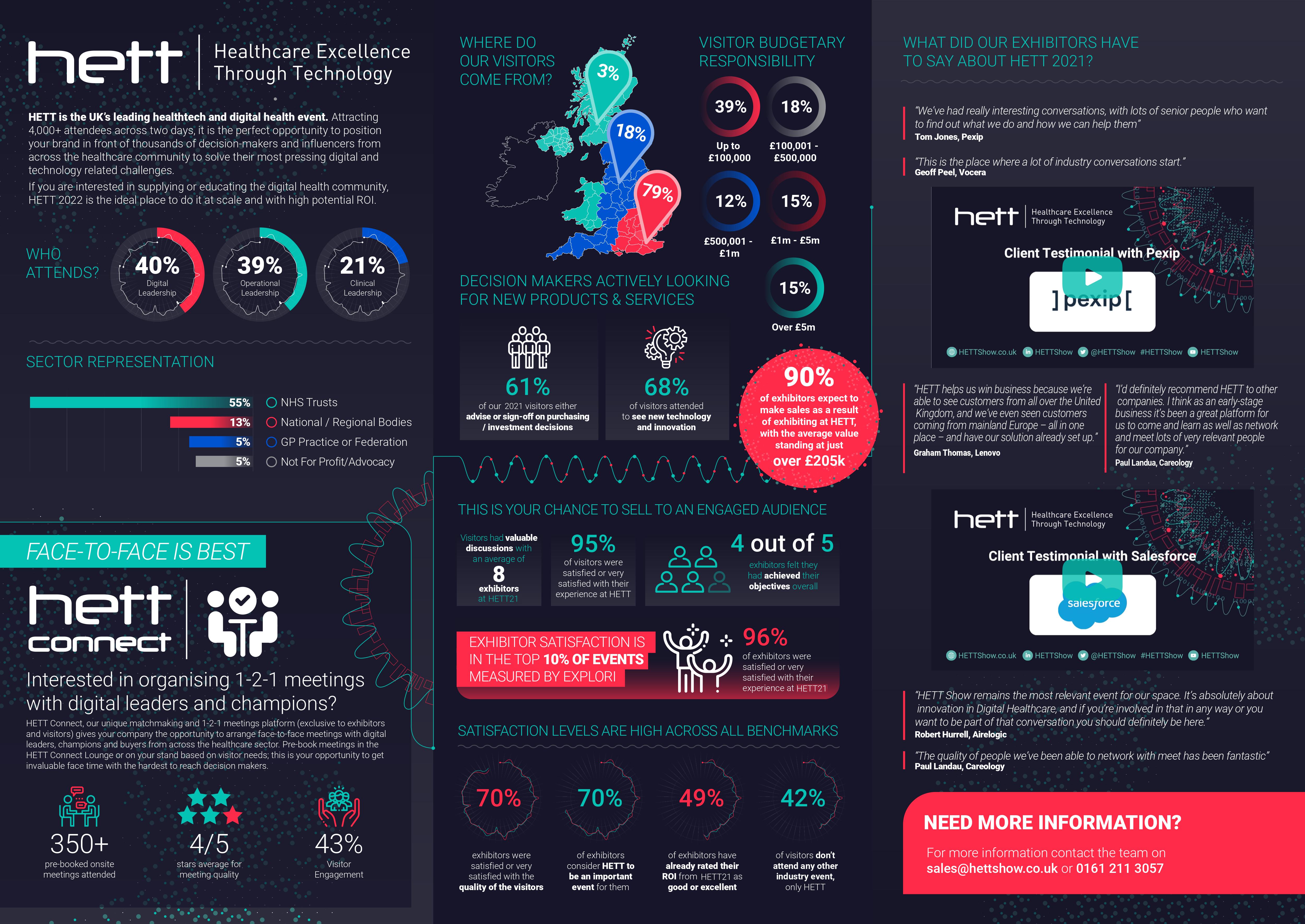 Start Your HETT Journey
Now it is time to take action. Register for HETT Show 2022 to avoid missing out on unique insights you cannot get anywhere else.
Secure your spot using the button below.