The Unexpected Innovation Individual Award Finalists announcement!
This year, the HETT show is adjudicating the Unexpected Innovation Awards, celebrating the best of experimental design, creative thinking and radical innovation in healthcare, exhibited by both individuals and teams over the past year.
The Unexpected Innovation Award can be awarded to anyone, no matter their specialism. So regardless of the person's focus, be it digital, IT, clinical, frontline or any other important roles, they can be nominated. Everyone across this sector has a key role to play when driving excellence and innovation.
The individual award focuses on people who have 'demonstrated successful rollout of digital healthcare and health tech innovative projects including, but not limited to, experimental design, creative thinking and radical innovation'.
Let us meet the individual finalists:
Tremaine Richard-Noel

, Head of Emerging Technology,

Northampton General Hospital NHS Trust

Rajiv Sankaranarayanan

,

Consultant Cardiologist and Clinical Lead for Heath Failure, Liverpool University Hospitals NHS Foundation Trust, Liverpool CCG, South Sefton CCG
FINALIST #01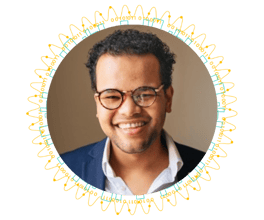 Tremaine Richard-Noel

, Head of Emerging Technology,

Northampton General Hospital NHS Trust

First in our line of finalists is Tremaine Richard-Noel. Noel is leading the advancement of technical adoption across the NHS, helping maximise productivity and efficiencies nationwide.

A nominee of Forbes 2021 30 under 30 for science and healthcare, Richard-Noel has been nominated for his initiative, hard work and passion. He is a pivotal figure in the digital transformation of the NHS and has proven not even a crisis can stop innovation from occurring.

His work speaks for itself — extending beyond efficiency gains. For example, he has been a spokesperson for the NHS for several years, previously serving as the Shadow Non-Exec Director and Deputy Lead Governor in acute and mental health trusts.

Richard-Noel's notable work has included his Robotic Process Automation (RPA) programme, the NGH Automation Accelerator. The NHS has always suffered from understaffing, exacerbated by the COVID-19 pandemic and has introduced more mundane tasks, such as admin and data input.

Richard-Noel secured funding to begin his programme after developing a digital automation process for 24/7 oxygen monitoring during the COVID-19 pandemic. The programme leverages available networks, such as NHS bodies, vendors and the Academic Health Science Network (AHSN), to ensure the spread of innovation and support the 23 organisations Noel's team is working with.

In NHS Trusts, RPA helps free up valuable time for staff to focus on high-value activities while also speeding up minor tasks that can be automated to complete tasks with higher accuracy. Noel's organisation is projected to repurpose 115,000 hours through automating processes, amounting to more than half a million over five years.

Richard-Noel's work has helped improve morale, improve patient outcomes, encourage economies of scale, overcome recruitment challenges, increase capacity and lower costs.
FINALIST #02



Rajiv Sankaranarayanan

,

Consultant Cardiologist and Clinical Lead for Heath Failure, Liverpool University Hospitals NHS Foundation Trust, Liverpool CCG, South Sefton CCG
A recipient of the 2018 National Roy Award in recognition of his services to heart failure (HF) patients through adopting an elastomeric pump for ambulatory diuretic infusion and implementing point-of-care testing, Sankaranarayanan has been nominated to receive the Unexpected Innovation Award due to his work in the field of cardiology.
He is one of the 15 cardiologists selected by the British Cardiac Society for the inaugural Emerging Leadership Program, receiving several awards for his teaching role at the University of Liverpool.
Sankaranarayanan is notable for developing the first mobile app created in the NHS for people with heart failure. It is not only improving outcomes but also leaving patients feeling more in control of their condition. Alongside this, the app has succeeded at:
Offering education to patients in their own time, leading to significantly improved knowledge levels and medication compliance.
Halving 30-day readmission rates, saving 91 bed-days and £36,000 per annum.
Creating higher qualities of self-care.
The app has also aided in the fight against COVID transmissions. The app removes the need for repeat clinic appointments through remote education, reducing the potential for exposure to pathogens on public transport or within the hospital environment.
The app has been adopted by the entire Liverpool CCG, becoming a routine practice for all patients with HF, whether they are being seen on a hospital ward, in an outpatient clinic or within the wider community.
What stands out about Sankaranarayanan is his initiative. He liaised directly with HF patients to determine app features they would find genuinely useful, alongside specialist HF nurses, designing an accessible solution that was easy to navigate, maximising the positive impact of the app across the entire network of stakeholders.
He has also shown an acute awareness of the limitations of apps and digital solutions. He realised not everyone has access to a smartphone, discovering approximately one-third of HF patients would be unable to access it. To overcome that challenge, he also created a pocket booklet version that provides the same educational information.
It has been hailed as a 'wonderful life improvement tool', particularly inspiring for its user-centric design and the dedication it took to develop a resource HF patients clearly benefit from.
FINALIST #03



Dominic Cushnan, Head of AI Imaging, NHSX
Our third finalist, Dominic Cushnan, began working in his role just as the COVID-19 pandemic began and faced complete disruption. To combat this, a complete overhaul of strategy was in order, but Cushnan also had other plans. In efforts to help the NHS overcome the pandemic, he led a team that developed a national COVID-19 chest imaging database called the NCCID.
Before the pandemic, access to good quality, large datasets was already an essential requirement for the development of imaging technologies, but little had been achieved. However, the pandemic created an emerging and serious need for chest scans, so healthcare specialists could better understand, triage and treat the virus.
Cushnan's team developed processes that collected imaging data consisting of chest x-ray (CXR), magnetic resonance imaging (MRI) and computed tomography (CT) images from COVID-19 hospital patients across the country.
The NCCID began to collect data from over 23 NHS Trusts, receiving more than 37,000 x-rays, MRI and CT images.
This resulting data collection is of sufficient size to ensure robust model testing and development, enabling better studies into the effects of COVID-19 and its diagnosis.
The NCCID images have helped clinicians at Addenbrookes Hospital develop an algorithm that provides a more accurate diagnosis of people with COVID-19.
The NHS AI Lab Imaging team is now working to create a National Medical Imaging Platform, which will leverage patient data through AI technology to better diagnose and treat other conditions.
The potential for faster patient assessment in A&E, time savings for radiologists and increased consistency within care across the country.
Additionally, the research that the chest imaging database will provide supports:
The determination of disease severity.
Clinically useful diagnosis and prognosis.
Patient triage and management.
Decision-making.
Overall, Cushnan has been nominated for this award because of his commitment. Not only did he spearhead a project of national importance but he also attends forums, events and webinars and uses his social media presence to spread the word about the work of the NCCID, encouraging more trusts and centres to add to the ever-growing pile of data.
He also cares about the digital capabilities of the NHS, contributing to educational workshops that upskill the health and care system and also encourage improved data sharing and the adoption of new technologies.
Cushnan's main ambition is for the NCCID to be the largest of its kind in the UK. He hopes it will provide both imaging research and opportunities for AI training that will ultimately benefit people's recovery from COVID-19.
---
To find out which of these inspiring finalists will take home the first-ever HETT Unexpected Innovation 'Individual Award', register for your free conference pass to HETT and join us on 28 September at the ExCeL London.